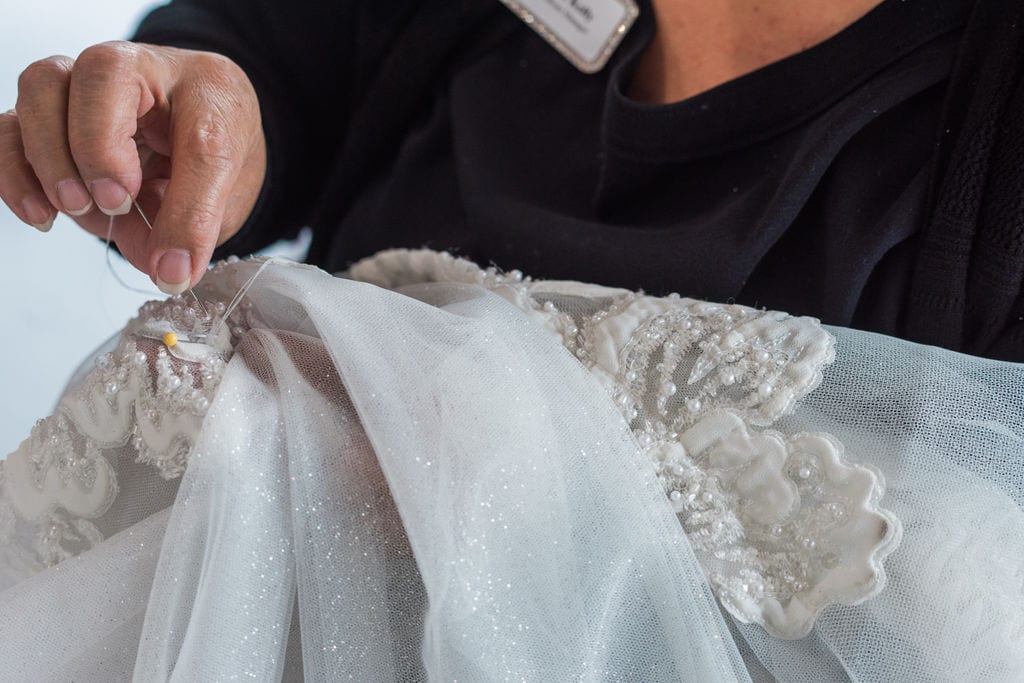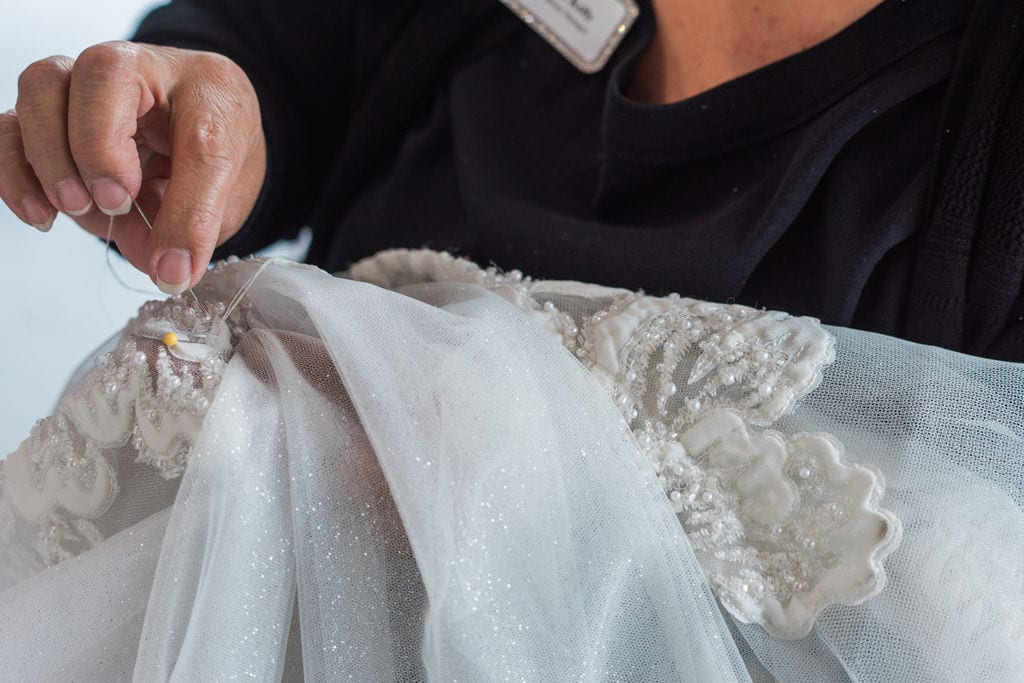 Let's face it, wedding planning is full of twists and turns and now more so than ever with the unknowns brought on by COVID-19. Though the general idea is that the process should be fun and exciting, it is rare that this is the case 100% of the time.
Bridal alterations are no different. It is important to know what you should expect when altering your gown and how to deal with the emotions during such a critical part of the wedding planning process.
As a full-service bridal boutique with extensive experience altering wedding gowns, we want to make sure our brides are educated to lessen potential stressors along the way. Overall, the most important thing to remember is that we have your best interest at heart and our goals are the same as yours – for you to be the most beautiful bride in your perfect gown on the most important day of your life!
Below we are going to touch on 5 key points to keep in mind when altering your gown.
1. Altering is not an exact science
The point of alterations is to adjust your gown to improve the fit. It is rare that your measurements will line up perfectly with the bust, waist, and hip for a particular size. More often, you might be a size 4 in the bust, a 6 in the waist, and an 8 in the hips. Depending on the silhouette of the gown, your stylist will recommend the best size.
Alterations will be needed to take in areas that are too loose/tight. Depending on how many areas need adjustments, multiple fittings may be required to achieve the desired results. The key variable here is that when one area of the dress is modified, this may affect another area which might then also need adjusting.
It is impossible to always know exactly how a particular type of fabric or dress will change once an area has been altered. Therefore, more fittings might be needed than initially anticipated. There is no one solution for all gowns.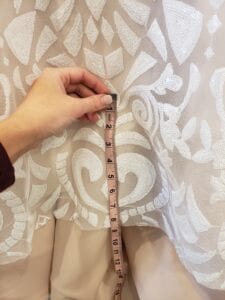 2. Have realistic expectations
When purchasing your gown, it is important to let your stylist know about any customizations you have in mind. While adding straps, removing mesh, and adding coverage to a neckline are typically easy adjustments, not everything is possible when customizing a gown.
For example, a dress likely cannot be made strapless if it has a low back and requires support by the straps to keep the top firm. Similarly, you may want the gown skin tight to your knees but be mindful that you might have trouble sitting down with a fabric that has little to no stretch. Always communicate your goals to your stylist for the best advice when purchasing your gown.
As women, many of us fluctuate in weight. This is why we wait until 3 months out to begin altering so that you have the best fit on your big day. It is however, important to note that major changes in weight can hinder the alterations process. Once alterations begin, you will want to do your best to maintain the same weight to minimize any inaccuracies.
While purchasing your gown is one of the most fun parts of wedding planning, altering the gown is typically when your stress is the highest. With the wedding only weeks away, it is completely normal for tensions to be high and this can carry over into your fittings. Remind yourself that our number one goal is your complete satisfaction and we won't rest until that has been achieved.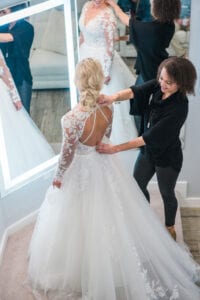 3. Don't be discouraged while the work is in progress
It is all too common that brides expect a finished look after one fitting. As mentioned above, most gowns require multiple fittings. It is normal to see your dress in an "unfinished" state when coming for a follow-up fitting.
Trust that your gown is never finished until you are 100% satisfied with the changes. Our seamstresses are very talented and follow a specific process that is designed to achieve the goals determined in the first fitting.
Having faith in the experts and coming into fittings without expectations will minimize unnecessary stress.
4. Make sure alterations are included in your budget from the beginning
On average, our brides pay $300-$800 for alterations. Unless you are buying a gown off-the-rack, it is impossible to know exactly what will need to be altered when your gown arrives.
Once you come for your first fitting (3 months before your wear date), we will provide you with a more specific estimate. Now that we've seen you in the dress and assessed a list of goals, we can provide an itemized breakdown with a high and a low for the total cost. Alterations will be paid for once the work has all been completed.
5. You are naturally going to be more critical than your guests
It is easy to get caught up in the idea of having the perfect wedding and along with that, the perfect dress. Try your best not to get hung up on minute details that likely will never be noticed. If something miniscule is unable to be changed, remind yourself that it will not effect your overall experience.
When you walk down the aisle, no one is looking for flaws. The only thing people see is a gorgeous bride in her gown and her incredibly lucky fiancé and the love they share.
Years down the road, you won't be focused on what could have been better, but what a fun and perfect day you shared with the love of your life.