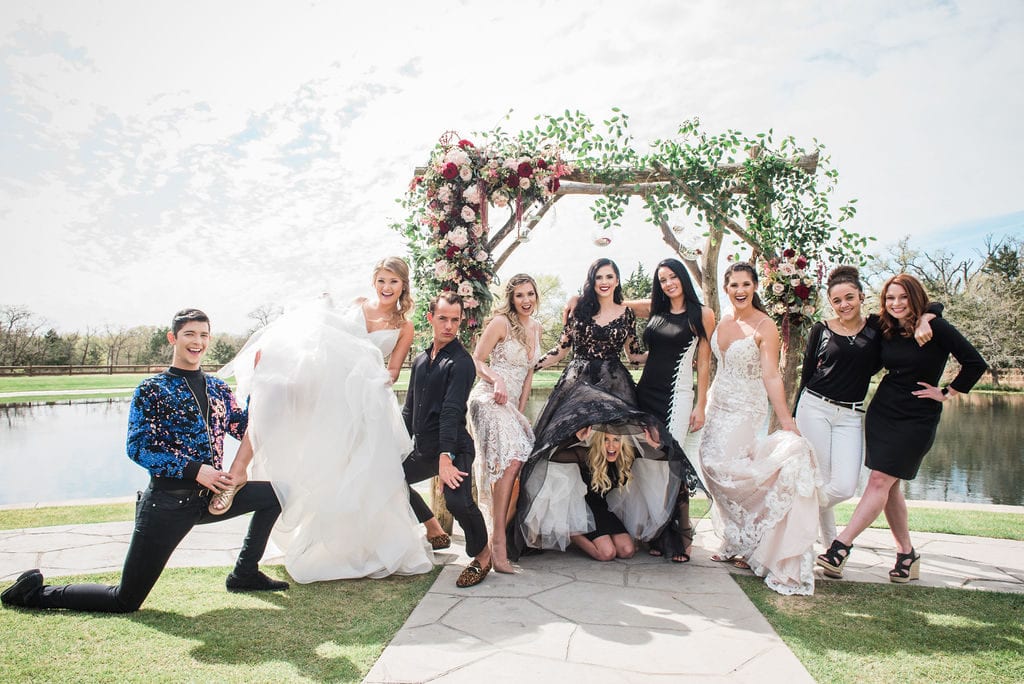 If you've been following along with us on social media, you might have seen that we put on a fashion show at Peach Creek Ranch last month!
This was such an amazing opportunity for us to showcase our brand new arrivals as well as a few of our favorites! We featured 27 dresses and 9 models, ultimately closing the show with our signature Zander gown in Black by Maggie Sottero Designs.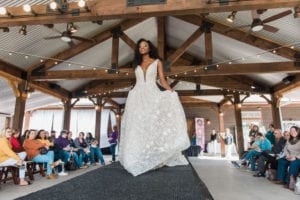 All of the gowns were featured in two separate show times and with over 450 total attendees, the event was a huge success!
Behind the scenes, members of our staff hurriedly helped the models into their dresses and fluffed their trains as they began their walk down the runway provided by Details Party Rental.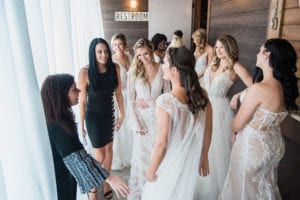 Showcasing styles from each of our 6 total lines by our designers Hayley Paige, Maggie Sottero, Calla Blanche, and Kitty Chen, attendees were able to identify specific gowns using programs that we handed out before the show.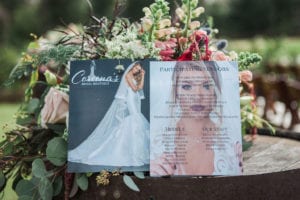 It has always been our mission to provide the most unique and jaw-dropping selection of bridal gowns, allowing brides that shop with us to truly make a statement with their wedding dress.
For this show, we put it all out there, presenting everything from bridal capes and pockets, to bohemian styles and a BLACK wedding gown! Yes that's right, black! We pride ourselves on being just ahead of the curve for what today's brides are asking for. That being said, don't be surprised if at the next wedding you attend, you see a bride walking down the aisle in a black dress. 😉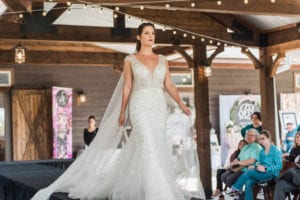 With the help of Leanna Duran and her team at Naturally Flawless, our models were looking fierce with hair and makeup that perfectly fit the style of each of their three gowns. Meanwhile, the crowd sipped on bubbly cocktails provided by Luke's Bartending Service, patiently waiting for J&A Entertainment to hop on the mike and announce the countdown between showtimes.
To add that "bridal flare" to our runway, Urban Rubbish provided a gorgeous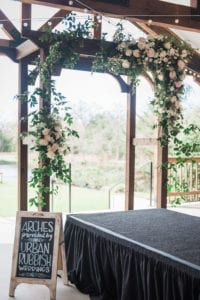 arrangement of flowers that truly brought the space to life.
Last, but certainly not least, Thomas Ross Photography captured every second of the show along with crowd reactions and behind the scenes action using two cameras and four Go Pros!
With the help of our incredible staff and these amazing vendors, we are proud to have put on a fashion show unlike anything College Station has ever seen. With this just being our first of many, we are excited to see how the show will grow and become even more polished as time goes by!
If you'd like to see more from this event, make sure to follow us on social media! We will be sharing more images and well as an exciting video that captures all of the action!