Your wedding day, oh boy, it's one of the biggest moments in your life, right? And the quest for the perfect wedding dress? Well, that's just another exhilarating chapter in your wedding planning adventure! There's quite a bit of stunning styles out there, and picking the one that does wonders for your bod is key. You want a dress that makes you feel like a million bucks and flaunts your finest features while being comfy enough to groove in. So, let's dive into this guide and figure out which dress silhouette fits best with your unique shape.
Ball Gown
Perfect for: Pretty much everyone!
Ever dreamt of a fairytale wedding where you're the princess? The ball gown's your go-to! Think fitted top and a massive, twirl-worthy skirt – pure magic. It's fantastic for hourglass and pear-shaped figures, cinching that waist and camouflaging any bottom-half worries. But if you're on the shorter side, be careful – that poufy skirt can gobble up your frame!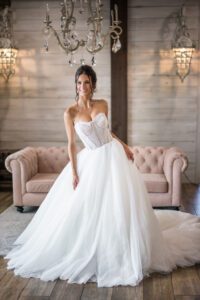 A-Line
Perfect for: All shapes and sizes!
The A-line's a timeless classic, fitting beautifully on brides of all configurations. Picture a snug top that gently fans out, like an 'A'. It accentuates your waist while skimming over your hips and thighs, creating that elegant balance. So, whether you're curvy, straight, or somewhere in between, this silhouette's got you covered. Petite? No worries, it'll even make your legs look longer!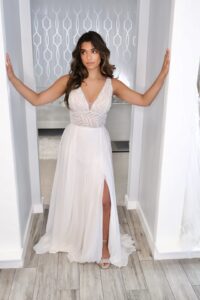 Mermaid and Trumpet
Perfect for: Hourglass figures and slender builds.
These silhouettes are your curves' best pals. The mermaid's like a second skin, hugging you from bust to knee before flaring out, a bit like a mermaid's tail. The trumpet's a tad more forgiving, starting the flare at mid-thigh. Both are superb for hourglass figures. But if you're more on the apple side or have fuller hips, maybe give these a second thought.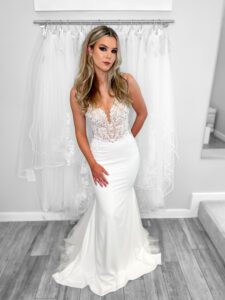 Sheath
Perfect for: Tall, slim gals and those hourglass babes.
Sheath dresses are all about simplicity and grace. It's a straight, body-skimming cut that's sleek from head to toe. Tall and slender? You'll slay in this! Hourglass figure? You'll rock it too. But if you're looking to create curves or you're a pear or hourglass in disguise, you might want to explore other options.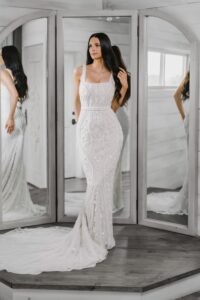 Empire
Perfect for: Mom-to-be brides and petite frames.
Empire-waist dresses have that high waistline right under your bust, flowing into a loose, comfy skirt. These are the comfiest for pregnant brides, giving space for a growing bump without sacrificing style. Petite brides? You'll love how it adds a dash of height!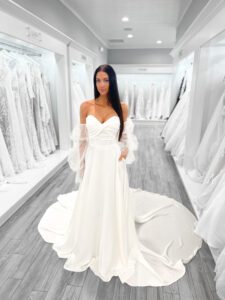 Tea-Length and Short Dresses
Perfect for: Chill, beachy, or vintage weddings.
For a relaxed, playful vibe, tea-length and short dresses are where it's at. They're fantastic for petite brides and those rockin' the hourglass figure. Super comfy and just a touch vintage chic! But if you're dreaming of a classic, formal affair, you might want to browse other silhouettes.
Picking the right wedding dress silhouette is your ticket to feeling like a million bucks on your big day. Remember, these tips are just the start. Your dress should make you feel like the stunning bride you are, regardless of your shape. Embrace your unique beauty, try on different styles, and let your dress amplify your natural charm as you strut down the aisle toward your happily ever after. You got this!