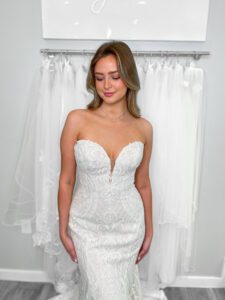 For five generations, the Sottero family has created designs that capture the imagination and inspire beauty among brides around the world. This skill and artistry culminated in the establishment of Maggie Sottero Designs in 1997. Launching with their custom corset closure, they have continued to provide incomparable fit that has come to be known in the industry as "Maggie Magic."
From sketch versions to hand-drawn patterns to hours of draping, tucking, and perfecting each toile, an immaculate wedding dress comes to life. Internationally sourced fabrics, hand-placed embellishments, and their renowned fit combine to create a perfectly tailored wedding dress.
Sottero and Midgley encompasses elevated styling, unique construction, trendsetting glamour, and edgy couture. Desirable elements include an ultra-sexy neckline, a luxurious fabrication, or an edgy and modern embellishment. The Midgley bride is chic, confident, and playful. When it comes to finding her perfect wedding dress, she favors glamour and sophistication of softness and tradition. She loves a unique, trendsetting fashion statement and completes her look with one-of-a-kind accessories.
Our Sottero and Midgley gowns currently range from $1,700-$3,200.