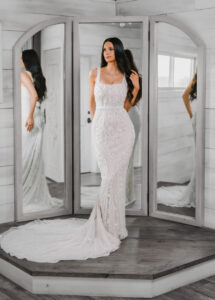 Vanessa Alfaro is a Bolivian/American designer based in California. She creates exquisite bridal and occasion wear designs that are all handmade using Haute Couture techniques. We are proud to be the first bridal store offering Vanessa's gorgeous creations to our Texas brides. The possibilities are endless with the wide range of customizations Vanessa offers. Together, we can help create your perfect custom gown!
An important distinguishing skill Vanessa implements in her dresses are her custom lace and crystal patterns. These designs are one-of-a-kind and utilize a brand new technique referred to as "crystal infusion." Gowns from her couture collection consist of hand-sewn crystals that will never tarnish. The quality of these dresses are unquestionable when viewed and held in person. The finished products are unique pieces of art, created to hug the silhouette with a flattering fit.
Our Vanessa Alfaro gowns will travel between our different locations. For a specific gown, please call ahead so that we can make arrangements to have it in-store for your appointment.
Vanessa's gowns currently begin at $3,000 and couture crystal gowns begin at $10,000.