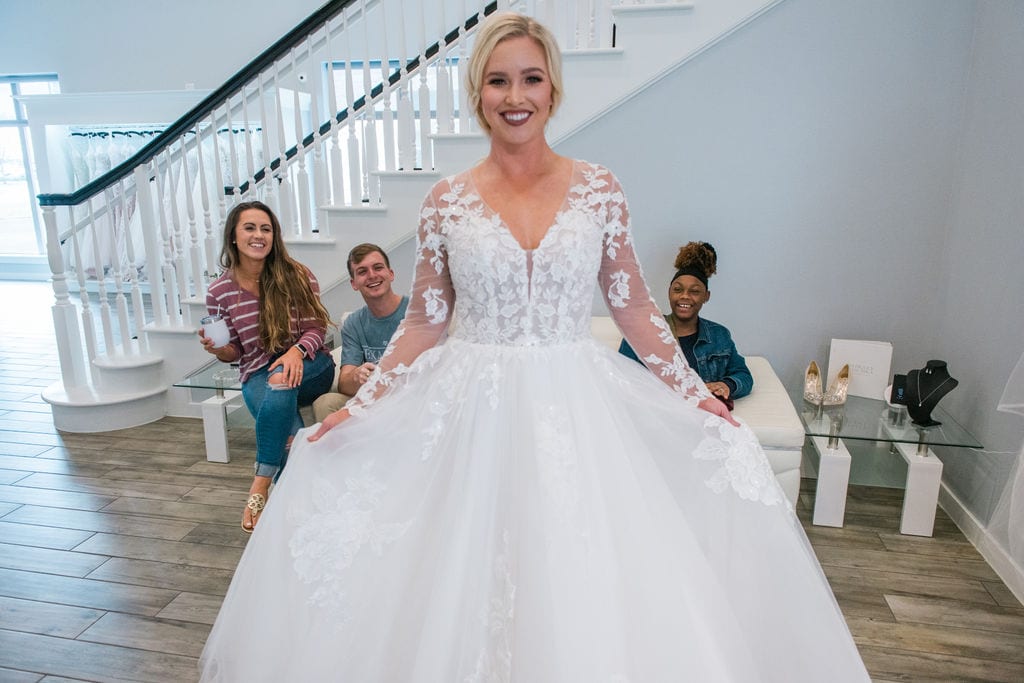 Choosing your wedding dress is an exciting experience that many dream of and plan for from a young age! The reality is that when saving for your gown, there are many other costs to be prepared for, besides the gown itself. Here is a list of five costs, beside the dress itself, to consider when saving up for your dream gown!
1. Alterations
When saving for your dress, setting aside some money for alterations is arguably just as important as the dress itself!  Altering your dress ensures that your dress will fit you perfectly, allowing you to be your most comfortable and confident self on your big day! Bridal alterations typically range between $300-$800, however, every situation is unique, so we encourage you to keep this in mind when saving up! Here at Coreena's, we conveniently offer in-house alterations with an incredible team of seamstresses that are excited to work with our brides to perfect their dresses!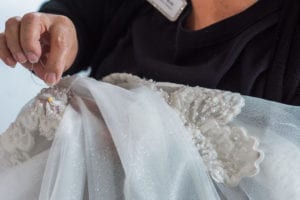 The most important take-away here is the sooner you purchase your gown, the less your alterations will cost. All of our designers allow us to order gowns with shorter lengths (which 95% of brides need). However, ordering a custom length gown usually requires longer production time. If your wedding is too close, you won't be able to order a shorter length gown and will then need to hem the dress in alterations. This is easily the most expensive aspect of any bridal alterations, especially for dresses with a lace edge.
Because we want to minimize your alterations cost as much as possible, we always encourage ordering a custom length if possible. This is also why we call our brides before their visit to suggest they bring a pair of shoes similar in height to what they plan to wear on their wedding day. Solidifying little details like this early on can save HUNDREDS down the road when it's time for alterations.
2. Customization

When looking at gowns, you may find one that is just about perfect, however, there may be something missing that would make this dress the one! While a lot of the dress-magic happens in alterations as previously mentioned, there are circumstances in which elements of a dress can be added or changed, for an additional charge, during the production of your gown. For example, this could be adding or removing rhinestones, shortening a train, creating sleeves, etc. Customization options vary between designers and dresses, with some even having to be approved by the designers themselves. It is always cheaper to customize your gown during the production process, rather than during your alterations. During your bridal appointment, our staff will always let you know if there is a possible customization that could benefit you!
3. Rush Fees
Because bridal gowns are custom made to order, they typically require 4-6 months to be produced, or sometimes up to 8 months with customizations. Some designers, however, offer rush delivery at an additional charge. At Coreena's, we encourage our brides to purchase their wedding gown at least 9-12 months prior to the wedding. This allows our brides to have the largest selection of gowns, enough time for alterations, and to avoid any rush fees. However, if you have a shorter timeline, make your bridal appointment as soon as possible, and we will always work with you and do our best to help you stay within your budget!
4. Accessories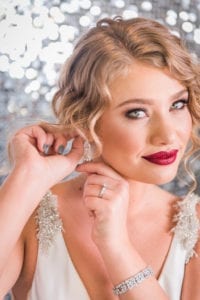 You've found your perfect dress, but now it's time to accessorize! Veils, headpieces, and jewelry can transform a look and reflect your personality even more. In general, the more "simple-style" dresses are less expensive which leaves more room in your budget for jazzing it up with accessories!
To give you a general idea of cost, below is a breakdown of price ranges for each category we currently offer.
Veils: $81-$765
Shoes: $79-$275
Jewelry: $25-$150
Headpieces: $108+
Belts: $100-$500
While the cost of accessories can add up, at Coreena's, we happily offer our brides 20% off of accessories upon first visit! All the more reason to utilize our stylists' knowledge!
5. Preservation
For those who want to maintain the integrity of their dress in the future, wedding preservation kits are the solution! These kits will allow you to keep your dress in the best shape possible for years to come. You can purchase a preservation kit from us at any time for $275, and if you have any questions about the kits and how they work, our staff will gladly tell you more about it!
Here at Coreena's, we want our brides to have a fun and seamless experience! Going into your bridal appointment with an understanding of the costs and commitment that comes with a wedding gown will allow you to have the most enjoyable experience. Our staff is fully committed to providing the best service possible, ultimately leading to the perfect dress, which is priceless!
Post Written By Bridal Stylist, Claire Shakesby
Photos by Thomas Ross Photography
Hair and Makeup by Naturally Flawless