Your wedding day is one of the most special and unforgettable moments in your life, and finding the perfect wedding dress is a crucial part of making that day truly exceptional. At our bridal shop, we understand the importance of selecting a gown that reflects your unique style and personality. We're thrilled to introduce you to some of the most talented and renowned wedding dress designers in the industry. Each of these designers brings a distinct flavor to their creations, ensuring that every bride can find a dress that makes her feel absolutely stunning on her big day. So, let's dive deeper into the world of the designers we proudly carry and explore the unique elements that set them apart in the bridal fashion industry.
Randy Fenoli
When it comes to bridal fashion, Randy Fenoli is a name that resonates with both brides and fashion enthusiasts alike. As a fashion designer, TV personality, and bridal expert, Randy Fenoli knows how to create wedding dresses that are nothing short of extraordinary. His gowns are the embodiment of sophistication and style, tailored to make every bride feel like a true vision of beauty. Randy's designs often feature elegant silhouettes, exquisite lacework, and glamorous detailing.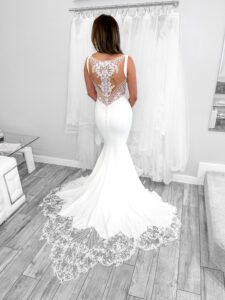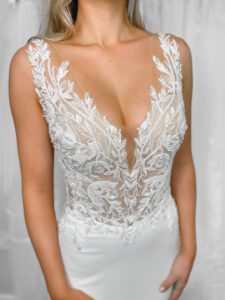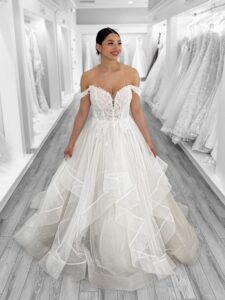 Vanessa Alfaro
Vanessa Alfaro's dresses are pure luxury and sophistication. An important distinguishing skill Vanessa implements in her dresses are her custom lace and crystal patterns. These designs are one-of-a-kind and utilize a brand new technique referred to as "crystal infusion." Gowns from her couture collection consist of hand-sewn crystals that will never tarnish. The quality of these dresses are unquestionable when viewed and held in person. The finished products are unique pieces of art, created to hug the silhouette with a flattering fit. If you want to feel like a true queen on your big day, Vanessa Alfaro's dresses will make your royal dreams come true.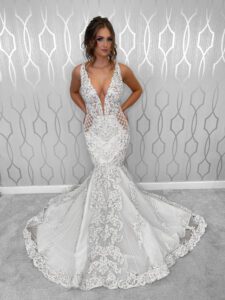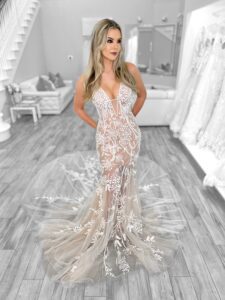 JH Bridal
Jimme Huang is here to shake up the bridal world. His designs are all about sophistication and innovation. If you want to make a bold statement and show the world that you're a modern, trendsetting bride, Jimmie Huang's creations are a must-see. Prepare to be a head-turner!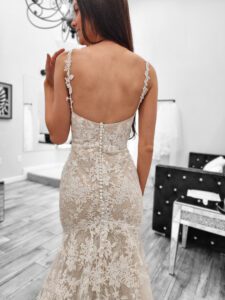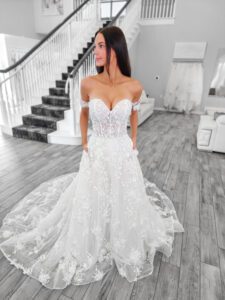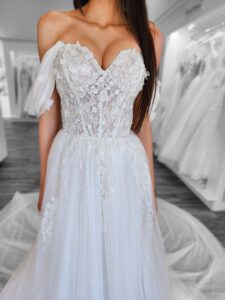 La Perle by Calla Blanche
Now, if you're all about those bohemian vibes and freeing your spirit, you'll fall in love with La Perle. These gowns are like love poems stitched in lace and beading. Delicate, luxurious, and oh-so-boho, La Perle by Calla Blanche is perfect for brides who are wild at heart.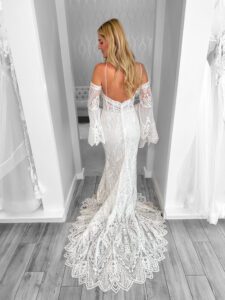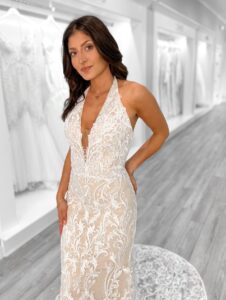 Kitty Chen
Kitty Chen's designs are like a celebration of all things feminine and graceful. Her gowns feature exquisite lace, romantic details, and timeless silhouettes that make you feel like the heroine of your love story. Always keeping the end goal of 'the perfect dress' in the front of her mind, Kitty's attention to detail and her skill at combining fabrics, laces, silhouettes and colors have set her apart from the competition.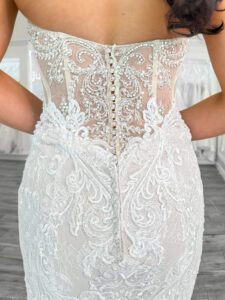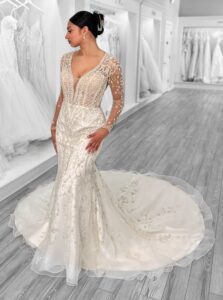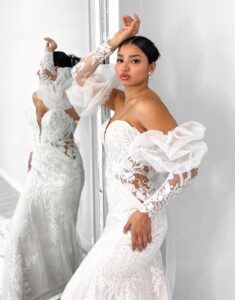 Maggie Sottero
Maggie Sottero, where do we even begin? These gowns are like a bridal dream come true. The name itself is synonymous with bridal fashion excellence. If you want a dress that's both modern and classic, these gowns blend the best of both worlds. Expect a perfect fit, stunning fabrics, and incredible attention to detail. It's the kind of dress that'll make you feel like a princess, only better.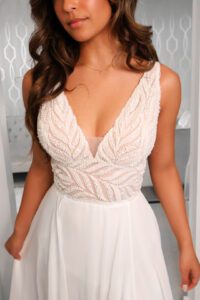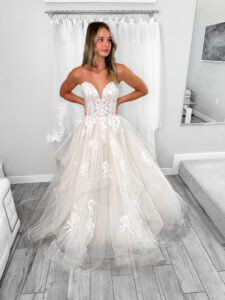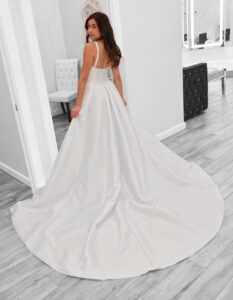 Sottero & Midgley
If you're looking to drop jaws and steal the show, Sottero and Midgley have got you covered. These gowns are all about bold and dramatic designs; think show-stopping silhouettes, opulent embellishments, and luxurious fabrics. The Midgley bride is chic, confident, and playful. When it comes to finding her perfect wedding dress, she favors glamour and sophistication of softness and tradition.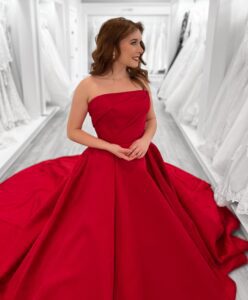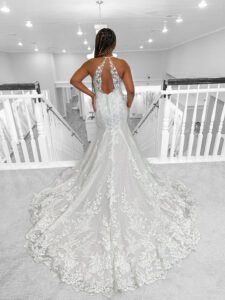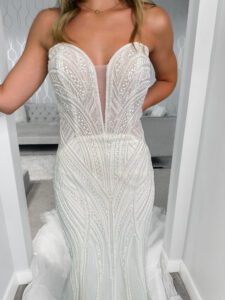 With such a diverse range of designers at our bridal shop, you're in for a treat. Each designer brings their unique flavor and craftsmanship to the bridal fashion table. So, come on over, have some fun, and find the dress that makes your heart skip a beat. Your wedding dress is waiting for you, and we can't wait to help you discover it!