Hey there, all you Swiftie brides-to-be! When it comes to wedding dress shopping, finding that perfect gown to make you feel like the star of your own love story is essential. Taylor Swift, the epitome of style, elegance, and timeless beauty, has graced the world with her captivating music and iconic eras. Each era is a journey through fashion and music, leaving an indelible mark on the hearts of fans. Drawing inspiration from the sweet "Fearless" days to the bold "Reputation" era, we present a curated collection of bridal gowns that align with her iconic tours.
Debut and Fearless Eras: Youthful and Romantic
The "Debut" and "Fearless" eras are characterized by youthful innocence and romance. The gowns inspired by these eras embody a fairytale-like charm, featuring delicate lace, flowing silhouettes, and a vibe that's all about young love and dreams. Think of soft, ethereal dresses that exude pure innocence, capturing the essence of Taylor Swift's early career.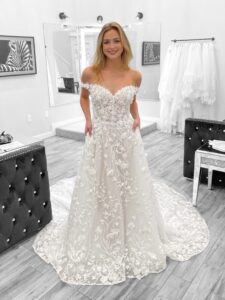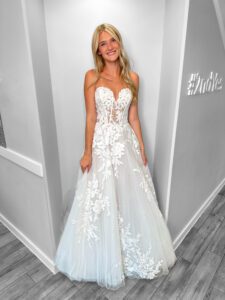 Speak Now Era: Whimsical and Graceful
This era was filled with enchanting tales and whimsical melodies. Bridal gowns reflecting this era often feature intricate detailing, delicate embroidery, layers of tulle, and a touch of enchantment. A-line or ball gown silhouettes with off-the-shoulder sleeves bring forth the enchanting grace reminiscent of Taylor's "Speak Now" era.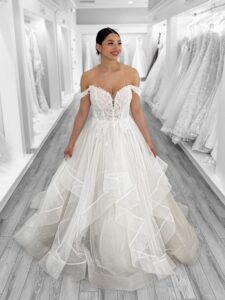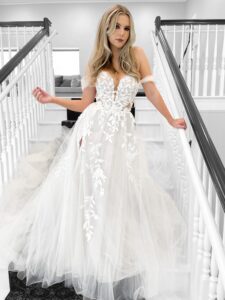 Red Era: Bold and Glamorous
The "Red" era represents a transition into a more mature and powerful Taylor Swift. The bridal gowns inspired by this era embrace bold, vibrant hues and sleek, modern designs. Make a statement with a gown that embodies confidence and the fire of love.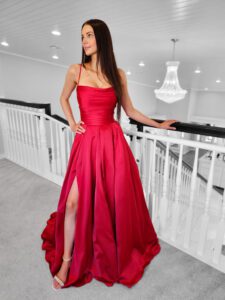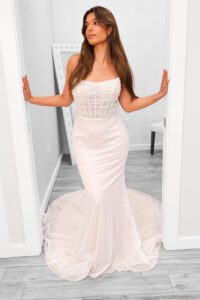 1989 Era: Modern and Chic 
The "1989" era showcases Taylor's transformation into a pop icon, and the bridal gowns influenced by this era reflect that transition. With sleek lines, minimalist designs, contemporary silhouettes, and a touch of glam, these gowns are perfect for the bride looking for a modern, chic, and stylish wedding look.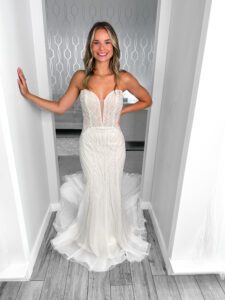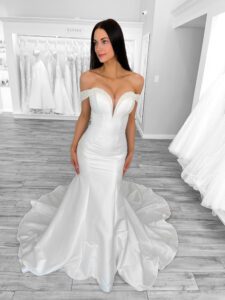 Reputation Era: Edgy and Bold 
The "Reputation" era is all about edgy elegance and self-assured confidence. Bridal gowns inspired by this era feature bold cuts, dark accents, and a touch of drama. This era is for the bride who wants to stand out and make a strong, stylish statement on her big day.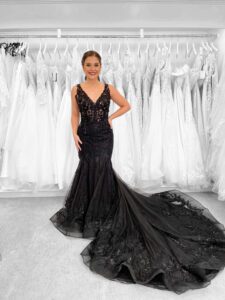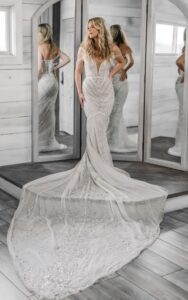 Lover Era: Romantic and Playful 
The "Lover" era is a return to romanticism and love in its purest form. Gowns inspired by this era embrace soft colors, delicate fabrics, and dreamy designs. Channel the spirit of love with a gown that embodies Taylor Swift's tender ballads.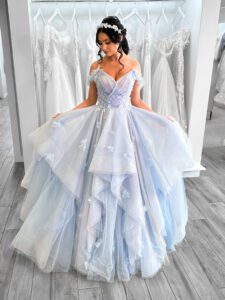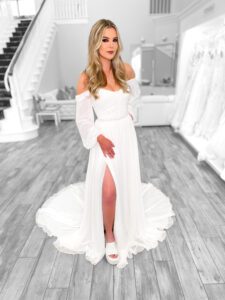 Folklore and Evermore Eras: Bohemian and Ethereal 
Taylor Swift's most recent eras, "Folklore" and "Evermore," introduced a dreamy, folk-inspired aesthetic. Bridal gowns inspired by these eras embody a bohemian spirit with earthy tones, flowing fabrics, and nature-inspired lace patterns. Long, loose sleeves and open-back designs add to the ethereal vibes. This era is for the bride wanting an intimate, woodland-themed wedding.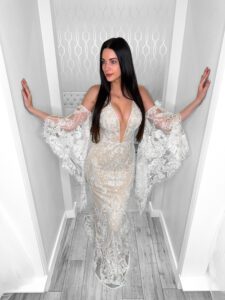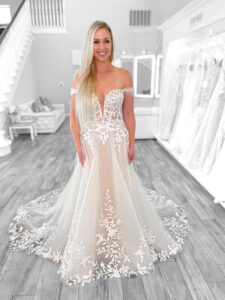 Every bride deserves to feel like a superstar on her wedding day. Drawing inspiration from the iconic eras of Taylor Swift's music, you can find the perfect gown that resonates with your style and captures the magic of your own love story. Get ready to step into a world of elegance, romance, and grace as you say "I do" in a gown inspired by the one and only. Let's make your wedding as unforgettable as a Taylor Swift hit!