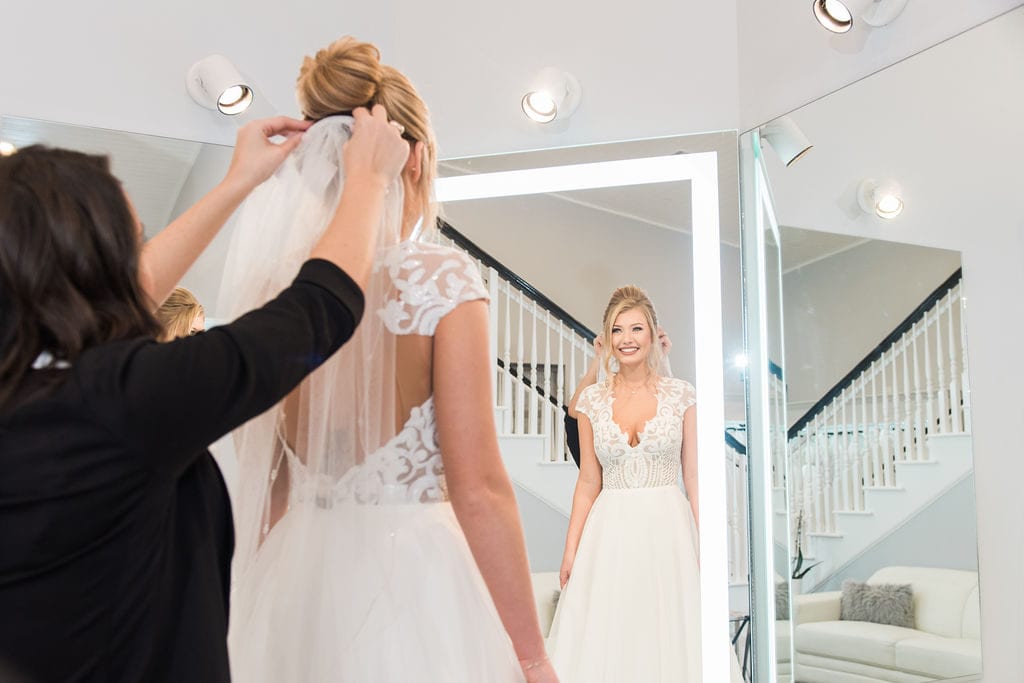 At Coreena's, many of our brides love the idea of dressing up their gown with sparkling accessories. However, we find that they are often unsure where to start and that's where our knowledge steps in. Not every dress needs to be decked out in multiple accessories. Sometimes a simple pair of earrings can do the trick. The idea is to compliment the gown in a cohesive way without distracting from the beauty or interrupting the design.
While finding the perfect dress is step one of creating your ideal bridal look, accessories can play a large role in completing your ensemble. For example, let's say you fall in love with a clean and simple gown (see Figure 1) but you find yourself wanting to add some flare that shows your personality. The bride in this photo chose a pair of pink tassel earrings and a gold bracelet to personalize an otherwise "traditional" gown. 
However, let's say a bride with the same dress wants to incorporate a sparkle aspect. Gowns with a lot of embellishment such as rhinestones and beading tend to be much more costly than a clean, more simple dress. This dress however, won't break the bank and you can easily add a necklace and earring set to "bling it up." If you find that is not enough, you can always add a belt and sparkly shoes for even more shine.
On the opposite spectrum, a gown that is heavily embellished (see Figure 2), needs very little to complete the look. Where some brides wouldn't add any additional sparkle, others might want rhinestones from head to toe. The bride in this image chose a simple necklace and headpiece that beautifully echo the bead work on her gown.
As far as shoes go, we always stress that you should be comfortable on your big day. Think about how long you will be wearing your dress and more often than not, your shoes are not visible. That being said, a beautiful pair of shoes might be great for bridal portraits and getting ready photos, but maybe you opt for a more comfortable pair to walk down the aisle in. Some brides even choose to walk down the aisle in heels and then change into flats for the reception. However, you must keep in mind the length of your gown and the ease of walking once you remove that extra height.
Of course we cannot forget the epitome of bridal – the veil. While not every bride chooses to wear a veil, those that do have several styles to choose from. The important thing to remember is to choose a length that doesn't "chop" your dress up in an unnatural way. Let your stylist guide you by having him/her explain the different lengths that pair best with specific silhouettes.
Your wedding venue also plays a key factor when picking a veil. Church weddings are a beautiful setting to create drama with a cathedral veil. Brides don't run the risk of wind or snagging on an uneven surface. In addition, a bride seeking a traditional look might also opt for a blusher (a layer that covers the face) or a lace edge that frames her from head to train.
Other gowns and venues might better be suited for a fingertip length veil. For example, a gown with an elaborate train doesn't always need the additional drama of a heavily embroidered cathedral veil. Rather, a simple tulle or rhinestone edge might just do the trick!
The keys to accessorizing are to listen to your stylist, try multiple options, and go with your gut! We often have brides come in for accessory appointments after they've purchased their gown. While dresses take four to six months to come in, accessories often take anywhere from one week to three months. Sometimes it is better to wait until your gown arrives and then schedule a time for a personal stylist to assist you. This way you don't have to worry about feeling rushed and you can better envision the full look with a gown that is your size! Although the abundance of options can be overwhelming, we are here to make the experience enjoyable and stress-free!