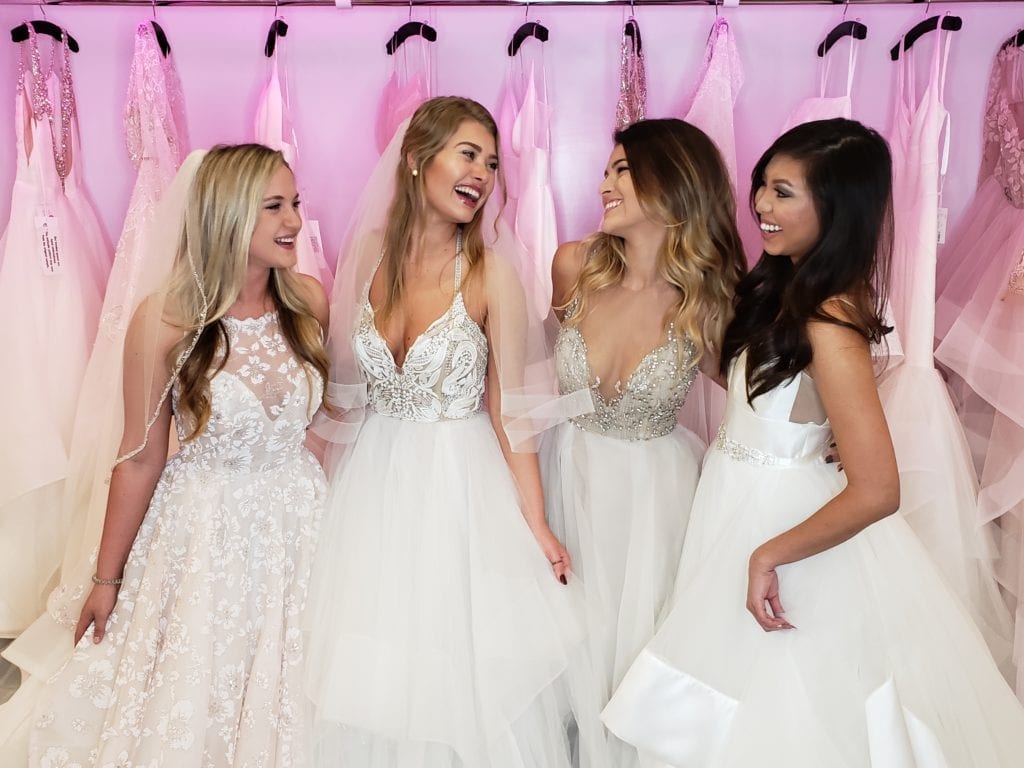 If you've been following us for some time, you will have seen that we often host designer trunk shows throughout the year. However, we are still often asked, "What is a trunk show?" and "Is this like a normal appointment?"
This post will not only answer all of your questions, but tell you how to make the most out of our trunk shows!
The purpose of a trunk show is to allow our brides to view a larger selection of gowns by a particular designer and bonus, earn some amazing discounts!
Bridal salons only carry a small selection of gowns from each season of a designer's collection. For example, for the 2020 Kitty Chen Collection, we selected 10 of our favorite dresses to carry in the store. However, during our upcoming Kitty Chen Trunk Show (January 24-26), we will have the FULL 2020 collection in store for you to try on! After the trunk show ends, we must send the gowns back to the designer that we don't already own.
As a friendly perk, we will offer a discount on dresses for the particular designer being featured! In this case, we will be offering 10% off all Kitty Chen dresses!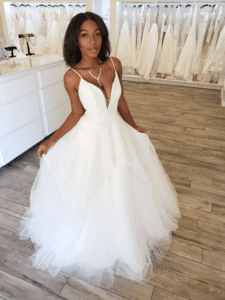 For our Hayley Paige trunk shows, the opportunity to save is significant. Brides not only receive 10% off Hayley Paige gowns (which, for these gowns could amount to $550 in savings), but we also offer up to $300 off a select list of customizations! It is very common for brides to order dresses in a shorter length so that they don't have to be hemmed after they come in. Ordering the proper length can save hundreds of dollars on alterations costs and also preserve the design of the gown! Hayley Paige typically charges $300 for a custom length gown but during trunk shows, this option is FREE! Let's add that to our 10% savings and this could amount up to $850 off your dream gown! We love nothing more than helping our brides take advantage of all the savings they can. This is why we contact our brides before their visit to make sure they are educated and prepared. For example, bringing the right shoes is crucial to ordering the correct length of gown and in turn, saving money on alterations down the road!
The other benefit of coming to a trunk show is sometimes these are gowns that haven't been shipped to stores yet. They might be a brand new collection that you can be the first to try on! Keep in mind, these gowns are often coming straight from the runway which means sizing is usually going to be limited to smaller samples. However, this is not the case with all of our designers. Maggie Sottero for example, allows us to pick from a larger selection of sizing for trunk shows – up to size 24!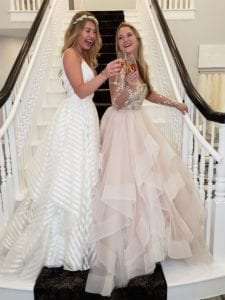 Since we will have trunk show gowns in our store from a Friday through Sunday, we will conduct appointments the same as we normally do. Each bride will have 90 minutes with a stylist, fitting room, and private appointment area. Remember to bring ALL of your important friends/family members because this is your only chance to see all of these gowns at once and also take advantage of the trunk show specials going on! If you fall in love with a trunk show dress, you may not have another chance to put it on for your loved ones since we will have to return the gowns to the designer the following Monday.
As we continue to grow our brand new boutique, we will invite other vendors to participate during our larger trunk shows. This could mean we'll have areas of the salon designated to hair and makeup artists, photo booths, cake artists, etc. All in all, we love to foster a fun and interactive environment for these events!